Hi Friends!!  Happy December! It's the season of gifing, and we have been having the best time with our 8 days of Christmas!! For 8 days, we bring you gifts and stocking stuffers at great prices! We are grateful to create beautiful pieces daily, and we thank you for your endless support!!! See below for a recap of the last 7 days and be sure to stay tuned tomorrow for our last day!    Day 1: We kicked off the week with our Full of Hope Bundle, which included peach turquoise, amazonite and lapis semi-precious stones. The stones symbolize hope, calmness, and compassion....
---
Hi friends! I could not end Thanksgiving week without thanking YOU, our amazing followers who have liked, commented, shared, purchased and LOVED on us!! We are SO grateful to curate beautiful pieces daily, and we thank you for your endless support!!   Re-stock Alert!!  Our Turquoise Gemstone Necklace is back, the prettiest raw turquoise stones with gold accent beads between each stone. I love pairing it with our friendship necklace and love knot studs! The cooler temperatures and rainy weather called for staying cozy in our  Cherry Fleece Jacket. Add this happy piece to your wardrobe and prepare for all the compliments! Would be the cutest gift too!  Our...
---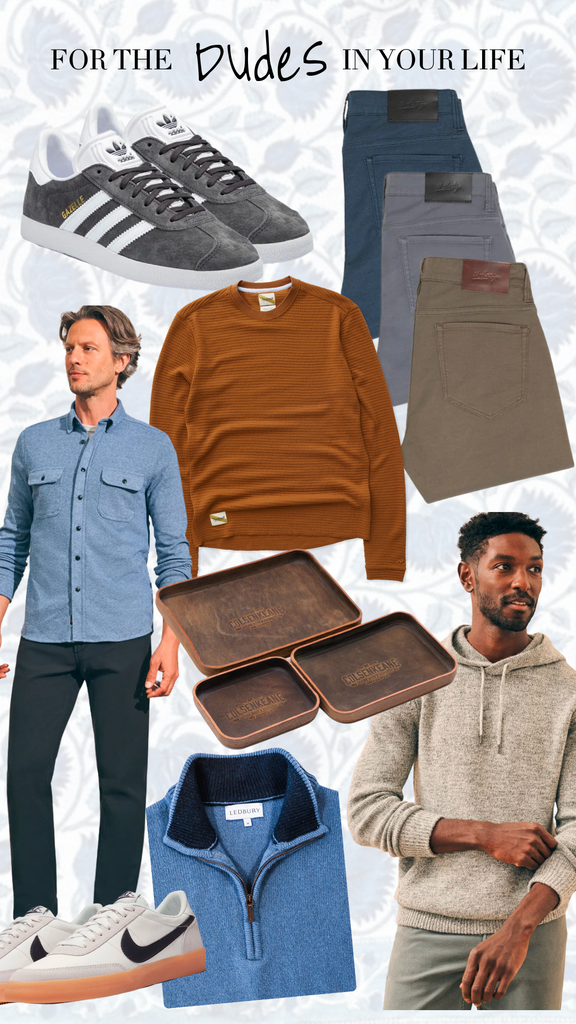 These leather valet Trays from local leather goods store, Colsen Keane are a GREAT gift! They can use them on their desk, in the closet, you name it!  I love the brand Faherty for Bryan. He loves this shirt and he's always wearing sneakers... these are old school but you can't go wrong with some adidas classics. These nike sneakers are also a great option!  Bryan also loves the Courage collection from Heritage. They have a million different color and fabric options! These waffle shirts from Track Smith are his new favorite! This cashmere hoodie is definitely a splurge but Bryan wears it all...
---
For the gal that already has everything from our collection, we know they're going to need some help storing it!!  Jewelry Stand - I use these jewelry stands to keep my jewelry displayed and untangled. You've probably seen them if you've attended a pop-up! They are a great height and sturdy. It looks cute on a bathroom counter or on your dresser.  I also love this one because it comes in silver and gold.  This beautiful emerald green, velvet jewelry case is the newest addition to our lifestyle collection and the best size for travel!  I love to use the cosmetic bags from Meanwhile...
---
This Able Jean Jacket is my tried and true - I've had it for 6 years and wear it all the time.  This denim shirt is an investment... no doubt, but is my absolute favorite. I will say that I've certainly worn it over 1000 times. It's easy to pack and great to wear on the plane. The length is perfection and works seamlessly with jewelry, plus it's easy to dress up or down.  My birks. Some people love them, some people hate them. I love comfort and I haven't taken these off since I bought them. Go for it!!! They work perfectly...