It's Erin's birthday this week!! 
And to celebrate we're doing something we've never done before! We will be having a huge outdoor tent sale!!
Join us THIS TUESDAY, November 7th from 10-2pm at our retail location 1218 East Boulevard, Charlotte, NC. There is a ton of parking in the back and across the street, and we will have $5, $10, $20, $30 and $40 tables full of tons of surprises and fun finds!! This is the perfect time to stock up on gifts for your neighbors, teachers, friends, daughters, you name it! We would LOVE to see you there and can't wait to celebrate together! 
Can't make the tent sale? 
We're popping up in Charlotte next weekend!
Be sure to check the list below to see if we are coming to a city near you... and if you don't see you city and would like to host a jewelry shopping party or pop-up please click here to reach out, or reply to this email, we would love to come to you! Plus we will be having some fun events coming up at our retail location, so stay tuned!
Greensboro, NC: Merry Merry Market, November 15th, 9-8pm. 1000 Revolution Mill Drive, Greensboro, NC
Charlotte, NC: Cameron Woods Pop-Up, November 18th, 9-1pm. 3228 Birnen Drive, Charlotte, NC 
Spartanburg, SC: Caroline's Cakes, December 5th, 10-2pm. 925 Beaumont Ave, Spartanburg, SC 29303 
Remember when we asked for your favorite white t-shirts? 
This week I tried two of the favorites you guys sent in, and I have to say so far this Target tee is winning! This Marine Layer tee is another one I have had in my collection for a while, but for the price it really isn't much different in my opinion!
You guys know by now that a white tee and jeans is my uniform so I had a ton of fun layering different options while trying these on! I showed a bunch of different options on stories, so I'm going to recap here! Our Mama Bear and North Star Necklaces from the sample sale were added to the permanent collection, and I love both of these for a delicate option. I love to add a tiny colorful pop like the San Francisco Necklace when I'm wearing something delicate. The San Francisco also looks awesome layered with the Golden Hour and Love Shack Necklace, or swap the San Fran out for the Mountain Morning! I always love to layer with our Triple Layer Disc Necklace too...this looks great with almost any of our pieces, but I've been loving wearing it with our Autumn in Paris, Strolling in Provence and Forever Young Gemstone Necklaces. The Starbright Necklace is a fun touch of sparkle to layer with these gemstones, and the Sunset Gem Necklace is fun for my pink gals! As always, there are NO rules when it comes to layering, but I know you guys like some ideas! 
New arrivals and Erin's favorites of the week! 
We launched the coolest piece this week... the Autumn Weekend Necklace! 
This is the coziest necklace we have ever sold! One of my favorite things to do is to create and source one-of-a-kind pieces for you that make you feel beautiful, confident and put together.  I loved working with Livvy from Fera Fox to bring you these statement necklaces. Each necklace is individually hand-crafted in Ashland, Oregon and made with recycled cotton cord. They are incredibly lightweight and have a magnetic closure so it makes taking them off and putting each one on incredibly easy. The colors are neutral giving you the option to wear each necklace with a dressy printed blouse or dress or keep each one casual. We put together a fun reel to show you how versatile they can be throughout the season!
Speaking of cozy, we launched this sweater this week too! It's the coziest relaxed fit and because it's so colorful it pairs with so many awesome pieces from our collection. I've been having fun pairing it with some of my favorites this week like the Freshwater Pearl Drop Earrings, Scarlett Necklace, and Portland Necklace. It also looks awesome with the Emma Braided Necklace if you're looking for a fun, yet neutral statement piece. If you want to add a pop of color I love switching out the Portland for the Smooth Turquoise and Dream Big Necklaces.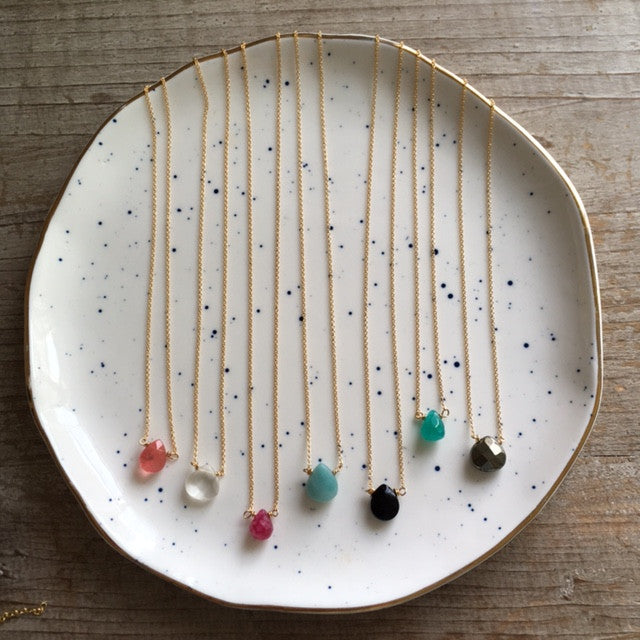 We also re-launched an oldie but goodie, if you've been around for a while you will probably remember them... the Tiny Gemstone Teardrop Necklaces !! These are so perfect to wear every single day, they are 14k gold-filled chain or a sterling silver chain so you can wear them in the shower, ocean, working out..anything...never take it off! They are on a 16" chain, but if you would like a different length, please email hey@erinmcdermott.com after you place your order!